AUTOMATIC CAPPING MACHINE for T-CORK 2000 BpH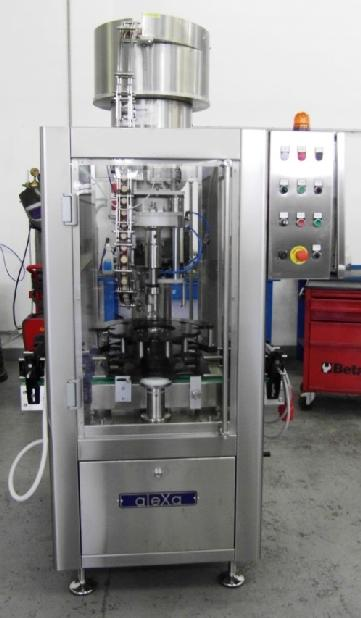 OFFER : 8637-16
Machine Description
Automatic capping machine mod. ALEXA PP 2.0 for glass bottle
Pick and place capsule distribution for T- cork
Max. throughput bph 1.800 / 2.000
Speed control by inverter
Machine Features
Automatic capping machine mod. ALEXA PP 2.0 for glass bottle
Pick and place capsule distribution for T- cork
Max. throughput bph 1.800 / 2.000
Speed control by inverter
Machine Features
Chassis of the machine in sturdy mechanical carpentry completely clad in stainless steel AISI 304 with wide lateral access doors.
Safety guards in compliance with the CE norms with panels of plastic material and safety micro-switches.
Device for the height adjustment while carrying out the format change (electrical high adjustment as optional).
Inlet and outlet star-wheels with safety devices.
Electrical system in compliance with the international safety norms with low voltage controls contained in a stainless steel box.
Stainless steel electrical box.
Safety micro switch on the screws and the star wheels.
Feeding of the caps with vibrating feeder, chute and dispensing head with PP device.