AUTOMATIC LABELLER FOR AUTOADHESIVE LABELS – CYLINDRICAL BOTTLES 1500 BpH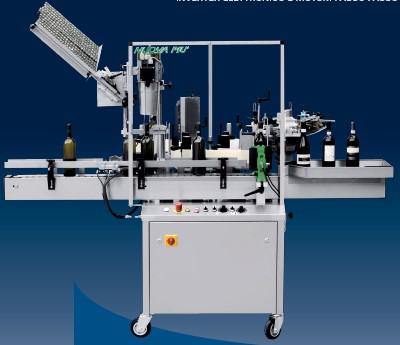 Offer: 9235-17
Machine suitable for application of self-adhesive labellers on glass bottles.
The standard version is equipped with step motors and electronic speed driver.
The machine is equipped with electromechanical emergency stop device (product stop),
activated in case of failure in the automatic packaging cycle and that can be used in
manual mode for maintenance operations.
Speed: MAX 1.500 bph
MACHINE SUPPLIED COMPLETE WITH :
– Complete safety covers with plexiglass panel
– Infeed screw for bottle separation at the inlet
– In-line machine with N.1 labelling unit
– Labelling unit motion by stepping motors
– Labelling unit supplied with a loading plate for a roll Ø.250mm max.
– Labelling unit adjustable in height, for the easiest adjustment to the different types of
labels and bottles
– Start signal for label release by precision sensor
– Speed of labelling unit synchronized with the speed of the machine
– Machine base-frame completely covered with stainless steel plate
– Aluminium parts covered with anti-rust painting
The base machine is complete with:
– N.1 station for application of front label on CYLINDRICAL glass bottle
– Bottle collecting table (50×40 cm)