MONOBLOC FILLING/CORKING/WIRE-HOODING – 500-700 BpH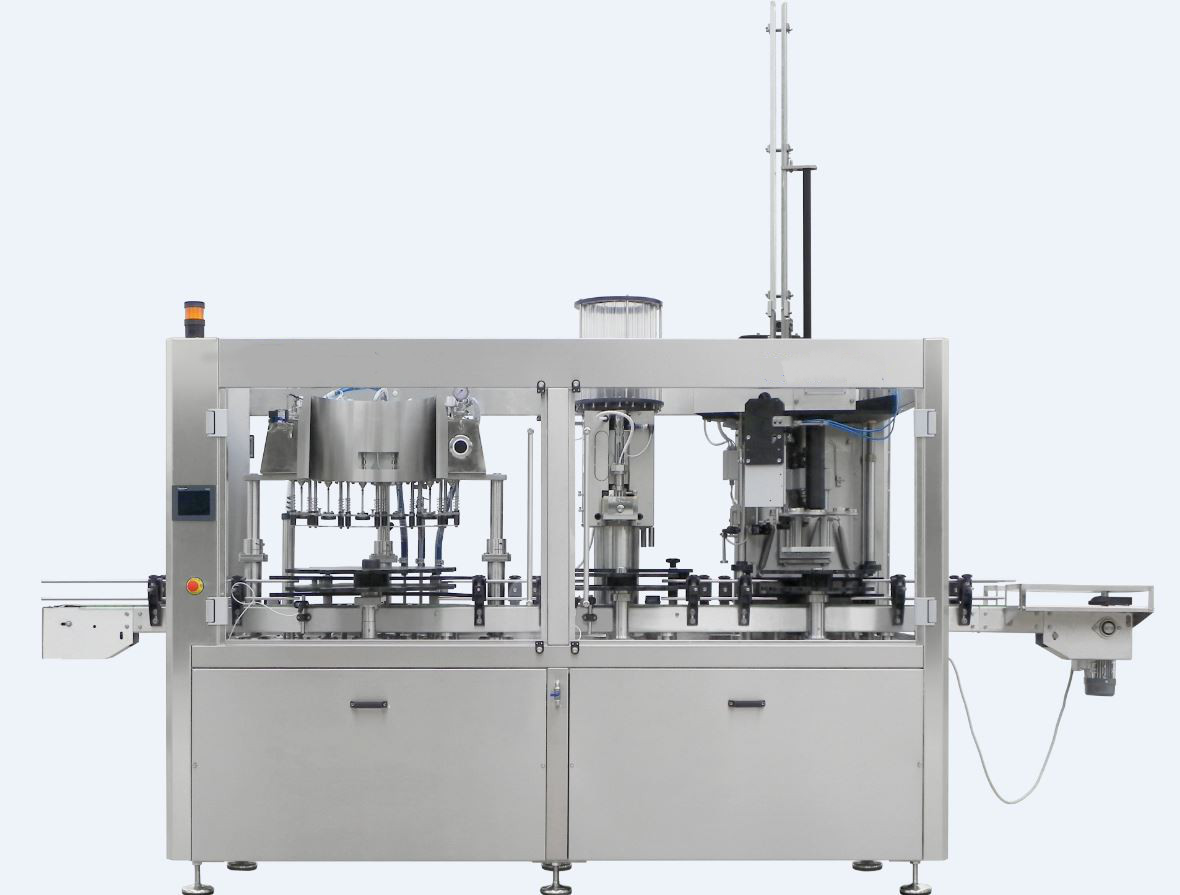 Offer 9329-17
Automatic filling, corking and wire-hooding mono bloc for sparkling beverages with champagne
corks and wire-hoods for glass cylindrical bottles
Output:
500-600 B/H for 0.75Lt bottles
600-700 B/H for 0.5 Lt bottles
The production is indicative and depends on the type of product and the filling temperature (ideal
from 0 to 2° c)
FILLER'S CHARACTERISTICS:
– 6 nozzles filling system
– Selection and bottle transfer through a star with presence bottle's control (no bottle/no fill)
– Product tank with thick walls, tested for operation up to 5 pressure bar
– Product inlet in the tank controlled by electrical level probes that allow to have a constant
pressure in the tank with less loss of gas
– Pneumatic bottles lifting with plates
– Centering bell to guide the bottle in the correct position
– Parts in contact with the product (valves and tank) mirror polished for better cleaning and
sanitation, with the use of steam and high temperatures resistant materials
– Filling system for the distribution of the product evenly on the walls of the bottle
– Level regulation through straws
– Electronic control of the different phases and processing times with PLC, with operator panel
settings
AROL'S CORKER
Machine suitable to close corks max ø 31 mm and height 50 mm.
Caps chute in stainless steel. Bottle presence control device
Jaws steel hardened, ground and polished to ensure maximum durability and efficiency; the
dowels are controlled with a cam hardened steel specifically designed to allow a slow shrinkage of
corks and a rapid introduction into the bottle neck; the cylinder minimum compression is
calibrated to a diameter of 16 mm.
Device for blowing air inside the compressor blocks, to maintain an effective cleaning of the
corking head.
Mechanical device for height adjustment of the corking head, to allow the adoption of additional
formats of containers.
Piston lifting bottles made of stainless steel, with inner liquid-controlled by cams in hardened steel
to ensure the non-deform ability.
WIRE-HOODER
Wire-hooder with 2 interchangeable pipes with a capacity of about 200 cages each, and automatic
dispenser
The pincer guide bottle ensures maximum concentric between cork and cage, keeping stopped
the bottle in the step of rewriting eyelet and ensuring maximum adherence of the latter to the
cap.
Machine fully built in stainless steel AISI 304 with wide side access safety doors in transparent
material
Base mounted on stainless steel feet adjustable in height (max 100mm).
Safety guards according to EC standards with panels (PMMA) and safety switches
Electrical system performed according to CE safety standards
Possibility of quickly bottle size and product change. Easy access to all parts of the machine for
cleaning or maintenance with consequent saving of time.
The machine needs a regular supply of compressed air, nitrogen and electrical connections
Color Display Management controls