AIR-OPERATED BENCH TOP CORKER AND CAPPER 600 BpH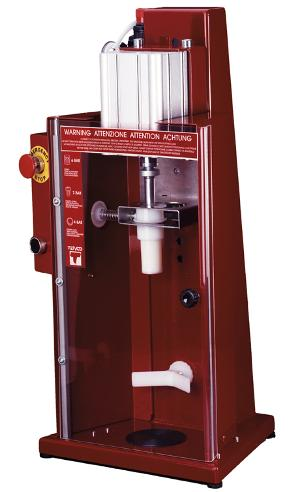 Machine Video
Fully air-operated, innovative, patented corker and capper. Of strong and robust construction, this is a compact and easy to use machine for
perfect corking and capping with:
CORK, agglomerated cork stoppers, synthetic caps with up to 25 mm diameter and 45 mm height
CROWN caps ø 26 and 29 mm
PLASTIC snap-on caps
Corks are manually inserted into the cone. When the safety door is closed and the start button switched on, the cork is placed into the bottle
by compression, ensuring cork integrity. Machine special head design ensures perfect corking without damage to the cork surface.
The machine is provided with magnetic closing heads for crown ø 26 and 29 mm.
This machine is equipped with a condensate collection and disposal unit, air pressure regulator to adjust the pressure depending on the type
of cork or cap employed.
The high quality of air-operated components needs no lubrication.
The capper can be provided in the fully equipped version (corks, crowns and snap on) or just for ø 26 e 29 mm crown caps, without door,
with safety screen and two buttons.
TECHNICAL FEATURES
Production: 400 bph (natural or silicone corks) Up 600 bph (crown or snap on caps)
Size: mm 375 x 325 x 745
Weight: kg. 25
Supply: air compressed (4 ÷ 6 bar)
Bottle and cap features:
NATURAL OR SILICONE CORKS: Max ø 25mm – Max height 45mm
Bottle height from 200 to 370mm
SNAP ON CAPS: closing head ø 37mm
Bottle height from 130 to 465mm
CROWNS ø 26 and 29mm (optional 30,5mm)
Bottle height from 130 to 465mm