MONOBLOC DISGORGING/CORKING/WIRE-HOODING – 500 BpH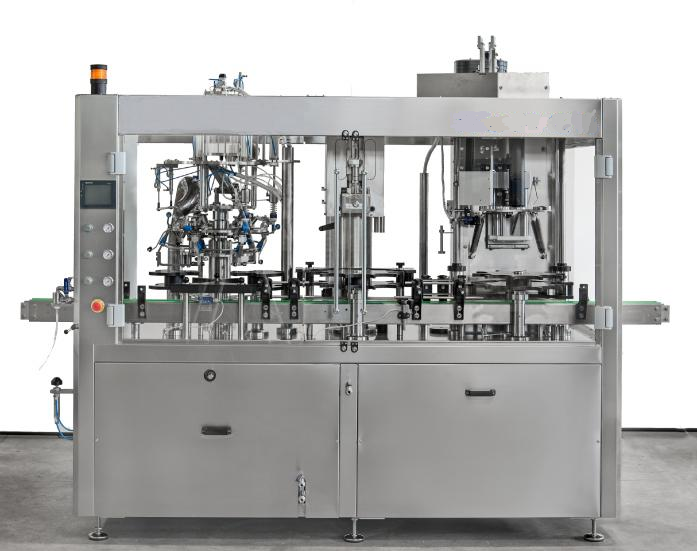 The automatic mono block combines in a single unit the disgorgement, dosage, wine leveling corking and wire-hooding operations. This machine allows sparkling wines' production using the traditional method.
Output: about 400/500 bottles per hour with 0.75 lt bottles
This automatic mono bloc is composed mainly by a turret with intermittent rotation equipped with 6 groups for bottle holding/closure to perform disgorging, liqueur's addition, leveling with wine.
The machine tips over the bottle of about 65° and then it removes the crown cap. The bottle without the cap remains in upright position to allow disgorging operation. After that the bottle is tilted back for liqueur dosing. The leveling is made when the bottle is again in upright position On the disgorging unit there is a group to detect the possible crown cap's presence
The turret is also equipped with a device for caps' discharging into a tank
located in the
chassis
CORKING TURRET
Machine suitable to close caps max ø 31 mm and height 50 mm.
Caps chute in stainless steel. Bottle presence control device
Jaws steel hardened, ground and polished to ensure maximum durability and efficiency; the dowels are controlled with a cam hardened steel specifically designed to allow a slow shrinkage of corks and a rapid introduction into the bottle neck; the cylinder minimum compression is calibrated to a diameter of 16 mm.
Device for blowing air inside the compressor blocks, to maintain an effective cleaning of the capping head.
Mechanical device for height adjustment of the corking head, to allow the adoption of additional formats of containers.
Piston lifting bottles made of stainless steel, with inner liquid-controlled
by cams in hardened steel to ensure the non-deformability.
WIRE-HOODING TURRET
Wire-hooder with 2 interchangeable pipes with a capacity of about 200 cages each, and automatic dispenser
The pincer guide bottle ensures maximum concentricity between cork and cage, keeping stopped the bottle in the step of rewriting eyelet and ensuring maximum adherence of the latter to the cap.
All parts in contact with product are made of stainless steel AISI 304 approved for food use.
The mono block is designed to be out in an automated production line